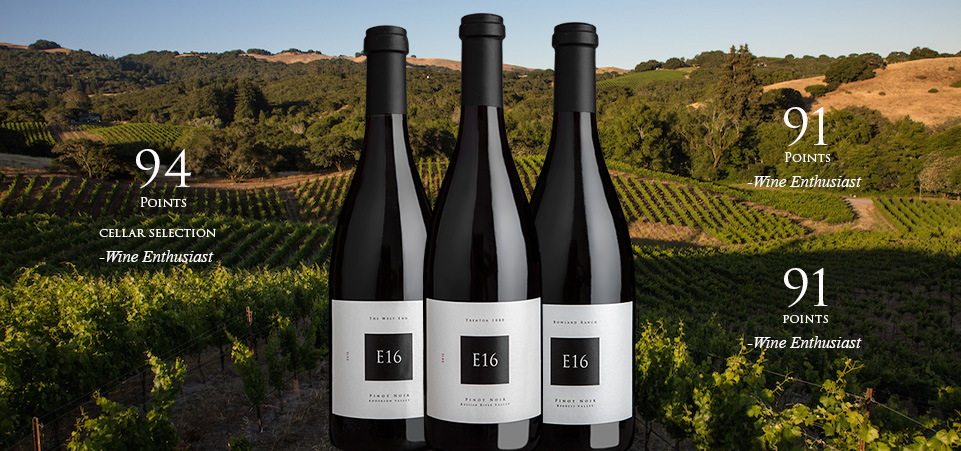 Single Vineyard Cool Climate Varietals – Sebastopol, CA
Winery
E16 is a new producer of single vineyard, small-lot Burgundy varietals from California's most revered appellations, E16 partners with celebrated and distinguished growers committed to sustainability and expressing the terroir of their sites. Founded by 3rd generation winegrower Robert Jones, E16 is named after the highway leading to Robert's original vineyard. The winery is co-piloted by winemaker Daniel Moore, formerly the original winemaker for Martinelli and later at Lynmar for 13 years. 2013 is their second vintage release.
Winemaking and Vineyards
The E16 style is to find a balance between layered fruit and bright acidity. Winemaker Daniel Moore orchestrates every aspect of the winemaking process, grounded by his year-round involvement in vineyards owned by growers with whom he has long standing relationships in 30 years of vintage experience. Hand-sorted, de-stemmed and cold soaked for 3-5 days until native fermentation begins, wines are occasionally inoculated with yeasts that minimize alcohol levels, while keeping acidity bright at 6 g/L. Punched down in open top fermenters, the single vineyard wines are all free-run juice. Wines are aged in House-Toast barrels from a variety of coopers, with the goal of rounding flavors and softening textures rather than extracting wood tannins. Wine is nitrogen-racked rather than pumped. Moore decides for each vineyard the specific regimen for winter pruning, leaf removal, crop thinning, irrigation as well as the timing of harvest, believing that attention to detail is the way to capture the terroir of each site.
The Baby Rattlesnake Vineyard honors Robert's grandfather's winegrowing legacy with year-round hand-cultivation and sustainable farming. With a warm, dry growing season, high 2400 foot elevation, cool overnight temperatures and well-drained granitic soils, it is ideal for the 16 Rhone varietals planted there. Baby Rattlesnake was so-named when Robert's 3-year-old son picked up a juvenile rattler, and put it down without incident.
Grenache Blanc, "Baby Rattlesnake Vineyard," El Dorado 2017 New Wine! 12.5% Alcohol
Mountain-grown, southeast facing at 2300 feet and cool evenings creates a bright and crisp wine filled with exotic tropical, golden-fruit and citrus flower aromas. Crisp and bright yet rounded, loaded with exotic stone fruit and lychee in the very long finish. No oak. 249 cases.
Chardonnay, "Bacigalupi Vineyard," Russian River Valley 2016   New Vintage
Winemaker Notes: "Nose of lemon blossom and buttered hazelnuts. Flavors of citrus, quince and minerals. Bright acidity, elegant and stylish with beautiful finish."
Source for part of the famed 1973 Chateau Montelena Chardonnay (1976 Judgment of Paris Winner). 40- year-old vines. Fermented in 30% new French oak and aged 11 months. Unfiltered. A sophisticated California Chardonnay. 279 cases.
Rosé, "Baby Rattlesnake Vineyard," El Dorado 2017   New Wine! 13.5% Alcohol
E16's first Rosé (77% Syrah, 23% Barbera) was grown at 2300 feet elevation, with cool nights and sunny skies. Apple, white plum and cherry aromas introduce, soft floral, peach, rose-petal flavors that finish with zesty acidity and nice length. No new oak. 281 cases.
Pinot Noir (New "Firefall" Label), California 2016 New Wine!
Blended from their E16 Single Vineyards, it offers incredible value. Scents of cherries, red fruits, clove, and rhubarb and preview juicy, fruit-centered flavors of cherry cola, plum, strawberry and sarsaparilla, finishing fresh, vibrant and long. 33% new French Oak. 325 cases.
Pinot Noir, "Upper Bench" Escolle Vineyard, Santa Lucia Highlands 2014
Winemaker Notes: "Aromas of floral red rose and raspberries. Notes of black cherries and lavender are followed by a refined and elegant lingering finish of tart pomegranate, light pepper and spice." From a select block of Pommard clone 300 feet above River Road, in the upper vineyard bench. Daniel Moore feels the 2014 is one of the top 5 vintages in this past 33 years, with steady weather and lack of water increasing concentration and balance. 30% new French oak. Unfiltered. 395 cases.
Pinot Noir, "E16 Selection" Russian River Valley 2014      90 Points, Wine Enthusiast
90 Points, Anthony Dias Blue: "Clean, juicy and bright with racy acidity and crisp cherry fruit; silky and lively; long and fresh."
A blend from two cool Russian River vineyards, one with more daily fog, the other with high-density planting and more sunlight. Mid-October harvested, fermented in open-top tanks, aged 11 months in 20% new French oak. 355 cases.
Pinot Noir, "Trenton 1880" Russian River Valley 2014      92 Points, Tasting Panel
92 Points, Anthony Dias Blue, Tasting Panel : " Smooth and ripe with lush cherry and plum fruit; rich and juicy texture and deep flavors; long and balanced. " From the Singler Vineyard in the town of Trenton, the name Trenton 1880" refers to the first year in which the first grapevines were planted in Trenton. 372 cases.
Pinot Noir, "West End" Conzelman Vineyard, Anderson Valley, 2014      94 Points, Wine Enthusiast
94 Points, Cellar Selection, Wine Enthusiast: "Gorgeous, deep dark fruit aromas waft from the glass in this vivid, racy and pure wine. A concentrated but not heavy black-cherry note starts in the aroma, drives through the flavors and on the the lingering finish. Bracing acidity and fine but firm tannins add an elegant, appetizing mouthfeel." Chosen for its clonal selection, its cold and foggy location in the west end of the Anderson Valley, the yields are tiny but the fruit highly expressive. Unfiltered. 369 case
Barbera, "Baby Rattlesnake Vineyard," Fair Play AVA, El Dorado 2016 New Wine!
Winery Notes: "Nose: dark berry, mocha, exotic spice, earthy notes. Mouth: Plum, mulberry, leather, tobacco, sage. A vibrant texture and body that lends richness in the mouthfeel and length on the finish."
Grown in well-drained, granitic and sandy soils at 2300 feet in elevation, the warm and dry growing season has cool nights which promote acidity. French oak aged. 359 cases.