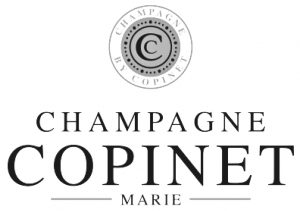 Récoltant Manipulant (Grower Champagne)
One of the few woman-owned French wineries
A Vigneron Independant
The association's most important parts of their charter stipulate that members must:[3]
Respect their terroir
Work and harvest their own vineyard
Make the wine themselves
Bottle their wine themselves
Keep viticultural traditions
Winery:
Like all Récoltants Manipulant, this Grower Champagne House uses only fruit they grow, allowing Marie-Laure Copinet and her winemaker husband Alexandre Kowal to create wines that purely reflect their estate's terroir. Originally working for Taittinger, her father Jacques founded the family estate winery in 1975, and stopped selling to Moët the fruit from their vineyards in the tiny Champagne village of Montgenost (population 140) in the Marne Valley.
Copinet is not bound by a House Style, like those created by many Maisons which override natural vintage variations. Only 5,500 cases annually. Creative in approach, they are experimenting with tiny lots of single vineyard vintage Champagnes, and Coteaux Champenois.
Winemaking:
Distinctive for the high percentage of Reserve Wines (50-70%) from at least 3 vintages blended into each cuvee, made without any new oak and minimal dosage , resulting in a Chardonnay-dominated style with racy acidity, freshness and finesse.
Hand-harvested before sunrise, then rigorously table-sorted at the estate before pressing within the hour, the wines have no oxidative quality. Using only the free-run and first press, yield is only 400 pounds of juice from 2,000 pounds of grapes. Primary fermentation in concrete tanks, bottle fermentation and aging all take place in the frigid 45°F cellar, temperatures that slow the fermentation for maximum aromatics and complexity. Dosage is always unflavored and only 5-6 g/L. Using the first egg-shaped Stainless Steel fermenter in winemaking (they had it custom-made to keep acidity bright) they bring subtle richness to their cuvees, using tank convection currents to gently stir the lees (without using oak or the more vigorous battonage technique).
Vineyards and Terroir:
With the same chalky dolomite soils of Epernay and Reims that retain very little water and create grapes of great concentration, the mean temperature is 51°F, actually colder than Vancouver, Canada. With this very cool climate, the Vin Claire (once-fermented juice) has astronomical acidity, ensuring wines that are gracefully cellar-worthy. Their 16.5 acres are within the village of Montgenost, mostly south- facing slopes and are planted primarily to Chardonnay for its finesse, freshness and bright, dancing lightness on the palate. Organically farmed with no herbicides or pesticides, using plowing, cover crops, and the greenest possible methods, they are now accredited Terra Vitis.
Brut NV, "Extra Quality"      Organically farmed  12.0% alcohol 90 Points, Burghound
90 Points, Wine Spectator: "Elegant with bright acidity and a finely detailed texture paired with pleasing notes of pastry, green pear, citrus and anise."
90 Points, Burghound: "Plenty of petrol character present on the expressive nose though not so much as to dominate the soft ci trus, yeast and green apple scents. The citrus – tinged acidity keeps the middle weight flavors crisp and clean . Delivers solid quality." 60% Pinot Noir, 25% Chardonnay and 15% Pinot Munier , based on the 201 2 vintage, with 2011 and 2009. 3 years on lees, dosage 7 g/Liter. 1,400 cases .
Blanc de Noirs, Brut NV Organically farmed  12.0% alcohol New Copinet Wine !
Blended only from declared vintages 2013 and 2014, 40% Pinot Noir and 60% Pinot Meunier. Winery Tasting Notes: "Bright aromas of brioche and crème brulée. On the palate, great tension of small red fruit and hazelnuts, supported by crystalline minerality and chalk. Verve and tension in spades with great depth on a medium bodied frame, yet retains it's elegance." Disgorged May 2018, with 5g/liter dosage.
Blanc de Blancs 100% Chardonnay, Brut NV    Organically farmed 12.0% alcohol            91 Points, Burghound
Gold Medal, Worlds Best Chardonnay, March 2017. 
91 Points, Burghound : " Aromas of green apple, floral, yeast and plenty of citrus and Meyer lemon. The crisp, intense and delineated flavors are shaped by a relatively fine if firm mousse while delivering quality depth and length. This could be enjoyed now as there is r eally very good depth, or aged for several years."
Bright flavors of apricot, honeydew melon, hazelnuts framed with white citrus on a focused, laser – like frame of pure white fruits. Made with 50% Reserve Wines and vintages 2009, 2010 and 2011 . Bottle – aged for 4 years on lees, with a 6 g/L dosage . 1,000 cases .
Brut Nature (No Dosage), Blanc de Blancs 100% Chardonnay, Brut NV  Organically farmed 12.0% alcohol
Unique in several ways: 100% Chardonnay, it is made without addition of any dosage after disgorgement, extremely rare for Blanc de Blancs. It is blended only from their 3 most recent Declared Vintages (2008, 2009 and 2010) then aged on lees for 5 years before disgorgement. Fermented using the first egg-shaped Stainless Steel Fermenter in the world (custom-built) to keep the acidity bright, where cement-egg fermenters lower the acidity. The shape gently stirs the lees through convection, creating a lush-textured wine that is still racy with acidity, made without oak. 800 cases.
2009 Vintage Cuvée Monsieur Leonard, Blanc de Blancs,  Organically farmed   12.0% alcohol   93 Points, WE 
93 Points, Wine Enthusiast: "This is a fine structured wine. It has hints of toastiness as well as spice while keeping bright acidity and a tangy texture. The wine is rich, still tense and ready to drink." 100% Chardonnay, this tête du cuvée reflects the very best selections from the 2009 vintage. Fresh nose of menthol, crème fraiche and almonds, becoming more complex with exotic fruits and toast. Attack is lively and sustained, solid and dense with a seamlessly pure, mineral finish. Disgorged May 2017. 6 grams/L dosage. 9 years on lees. 250 cases. (single 1.5L Magnums available)
Rosé Caractér Brut NV  Organically farmed 12.0% alcohol 91 Points, Wine Spectator
91 Points, Wine Spectator: "Aromatic, with star anise and graphite notes, this vinous version is soft and creamy in texture, featuring citrus acidity that frames the flavors of wild cherry, dried thyme and fragrant smoke. Distinctive." 50% Chardonnay, 20% Pinot Noir, 30% Saignee Pinot Meunier. Includes 30% Reserve wines, combining the 2009, 2010 and 2011 vintages. Bottle-aged 4 years on lees, with a 5 g/Liter dosage. 830 cases.
Coteaux Champenois : Rouge and Blancs 2015 Rarely made, Tiny-Production Still-Wines from Champagne Grapes  Spring Release
2008 Vintage, Single Vineyard, Single Terroir Champagne Series, "Épreuve d'Artiste" Organically farmed Spring Release100% Chardonnay Brut Nature, no dosage, all free run juice, aged 9 years en tirage. 800 bottles produced, individually signed and numbered.