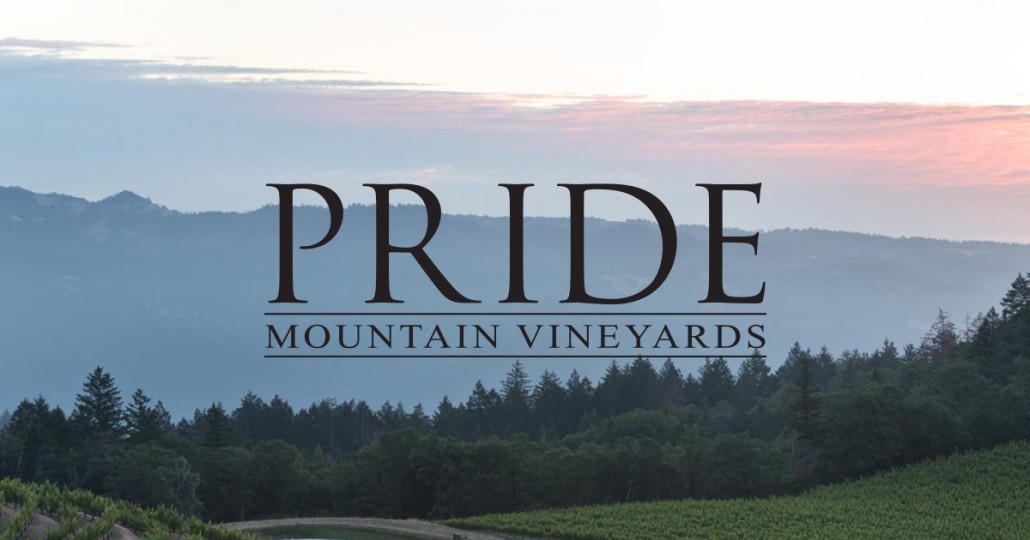 Spring Mountain Wines from the Pride Estate on the Napa / Sonoma County-Line
Winery: Founded in 1989 by the late Jim Pride, this winery continues the legacy of the original Summit Ranch Winery on the majestic ridge- top location initially planted in 1869. Operated now by Carolyn Pride and grown children Suzanne Pride Bryan and Steven Pride, the estate winery is committed to creating the highest quality wines reflecting the unusual terroir of this high mountain elevation. The modern winery and recently built 23,000 square feet of caves are within sight of the remains of an original gravity-fed stone winery structure dating back to 1890. The wines have been in the Wine Spectator Top 100 Wines of the World 6 times in 11 years, have been served in the White House 32 times (to four administrations), and are among only 22 California wineries in Robert Parker's "World's Greatest Wine Estates."
Vineyard: Straddling the Napa / Sonoma county line on the spine of the Mayacamas Mountains, this unique sunny mountain top climate is above the fog and 2,000 feet higher than the Napa Valley. Temperatures are several degrees cooler than Napa Valley, resulting in brighter natural acidity, longer hang time and steady slow ripening. Largely south-facing, the 86 planted acres are dry-farmed sustainably by the 15 full-time vineyard staff members. Each of the 48 distinct blocks is harvested separately, reflecting their own soil type and micro-terroir.
Winemaking: With the winemaking team-approach headed by Sally Johnson along with Steve Pride and Romel Rivera, a progression has been made in style toward more finesse, elegance, softer mountain tannins, and with the whites a shift towards less new oak and minimal malo-lactic fermentation. Former winemaker Bob Foley held the reins through the 2004 vintage. The next two vintages were made largely by Romel Rivera (see Corte Riva) and since 2007 by winemaker Sally Johnson. Recent investments in expensive upgraded crush and production equipment have further enabled Pride Mountain to express their intense mountain terroir and their ongoing aim of making big red wines emphasizing ripe black fruits while maintaining balance, nuance and complexity, being age-worthy yet approachable in youth. Over 50 separately picked lots are vinified individually, stainless fermented, cave-aged at 59° in neutral-oak before a percentage is selected for new oak aging, racked multiple times, removed from oak when ready, selected for blending and bottled unfiltered.
Chardonnay 2016, Napa Valley New Release 93 Points, WA Restaurants Only, 375 mL Available
93 Points, Wine Advocate: "Another terrific white. Sautéed apples, white flowers, toasty oak, and spice all flow to a rich, medium to full-bodied, nicely concentrated white that has good acidity, a fresh, focused style and impressive length." A resonant, vibrant and refreshingly crisp style. Winemaking: 25% new oak and 30% malolactic conversion, sur lie aged with weekly battonage. 1,900 cases.
Viognier 2017, Pride Mountain, Sonoma County  Restaurants Only [375 mL Available]
Winery Notes: "Explosively aromatic, with notes of nectarine, passion fruit, lychee, tangerine, fresh rose petal and lime zest. The texture is opulent and mouth-coating texture with just the right balance between richness and verve." No malolactic conversion and no oak influence (only stainless and old neutral-oak). Night-harvested in multiple passes. 1092cases.
Merlot 2016,Pride Mountain, Sonoma/Napa NewRelease 91Points,Grapevine RestaurantsOnly [375mL Available]
Winery Notes: "Enticing aromas of plum, cherry pits, menthol, dried flowers, subtle mesquite. Silky in the mouth, flavors include chocolate covered cherries and earthy spices. What sets this rich and full wine apart, though, is the smoothness with which it caresses all corners of your mouth."
Night-harvested over two weeks in late October. A Cabernet lovers' Merlot in styling, it includes 15% Cabernet Sauvignon and 1% Petite Verdot. One of California's Premier Merlots. MAGNUMS (six-pack): $540.
Syrah 2016, Pride Mountain, Sonoma County Restaurants Only LIMITED
Winery Notes on the 2016: "Dark, mysterious and exotically beautiful with flavors of blackberry coulis, sandalwood, jasmine oil, crushed peppercorns, cardamom and bacon fat. The palate is equally decadent, an unctuous roundness, lush flavors and a long-lasting finish." 25% whole cluster Syrah is co-fermented with 3% Viognier in Stainless, aged in neutral oak, unfined and unfiltered.
Cabernet Franc 2016, Pride Mountain, Sonoma County New Release BY ALLOCATION ONLY [375 mL Available]
92 Points, Galloni: "A very pretty wine that brings together the natural richness that is such a Pride signature, along with attractive Franc nuances. Dark plum, cocoa, spice and leather are some of the many overtones that develop."
Winery Notes: "Sweet cherry, dried cherry, dried herb, tobacco and white pepper aromas. Marries fabulous density with ethereal lightness. Its full richness and dark fruit are balanced with enough acidity." Night-harvested in later October. 22% Cabernet Sauvignon. Extremely limited.
Cabernet Sauvignon Reserve 2015, Pride Mountain, Napa/Sonoma 97 Points, Parker BY ALLOCATION ONLY
97 Points, Wine Advocate: "Pronounced creme de cassis, baked blackberries and warm plums scents with nuances of cigar box, smoked meats and tapenade plus a touch of sautéed herbs. The palate delivers mouth-filling, crunchy black fruits with loads of savory accents and a firm, grainy frame, finishing with fantastic length and vibrancy." 97% Cab, 2% Merlot, 1% Petite Verdot.