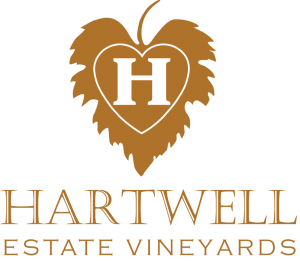 Winery and Estate Vineyards: Predating the establishment of the Stag's Leap District, Bob Hartwell saw great potential in the area, and in 1986 purchased acreage from Harry Sees (of Sees' Chocolate fame), in spite of advice that the hillside was too steep for Cabernet. Using the famed Grace/Bosché Cabernet suitcase clone provided by friend Dick Grace, acclaimed winemaker Heidi Barret made the first vintages starting in 1990, and success was immediate. With a winery motto of "grow the best grapes, make the best wine," the vineyard is the heart of Hartwell's winemaking. Gradually adding acreage to their estate, several Musque Sauvignon Blanc clones were planted in their parcel in Carneros. The vineyards are planted and harvested in very small blocks according to specific terroirs; one side of a vine is picked separately from other side of the same vine. Careful sorting ensures that only the best of the best estate grapes are selected.
Hartwell Family: After Bob and Blanca married, they added another parcel to the Stag's Leap site and built a cave into the hill. After decades of success, in his 80s Bob decided it was time to retire, sold part of their property and caves, and sadly passed away 6 months later. The family continues ownership of the two original Grace/Bosché clone Estate Cabernet parcels and their Carneros Estate.
Winemaking: From an elite lineage of World Class winemakers, first with Heidi Peterson Barret, then Celia Masyczek Welch, Andy Erickson and now Benoit Touquette, the Hartwell wines have been consistently among the most respected in Napa Valley. Benoit took on winemaking in 2006, following two Masters Degrees from the University of Bordeaux and extensive experience with Bordeaux Chateaux. Long-time friends with Hartwell Consultant, Michel Rolland, he brings great attention to winemaking detail after working with Rolland in France, Spain and South Africa. He initiated use of concrete wine tanks and egg shaped fermenters at Hartwell. He ferments most reds in new French Oak barrels standing on end with their heads removed, which are then transferred to concrete tanks.
Estate Sauvignon Blanc 2015, Carneros Napa Valley  Just Released
Winemaker Notes: "Delicate aromas of gun smoke and flint are followed by lush, tropical fruit notes radiating from the glass. The creamy, textured palate unfolds with notes of lemon meringue, pineapple and Manila mango, deftly framed by a vibrantly focused and mouthwatering acidity."
Blended from three different intensely flavored Sauvignon Blanc Musque Clones grown in their cool, Carneros estate vineyard. Carefully sorted, gently whole-cluster pressed, and fermented three ways: 25% in stainless barrels, 30% in neutral French oak and 45% in concrete egg tanks, then aged for six months in stainless on frequently-stirred lees. 513 cases.
Hartwell "H" Proprietary Red Blend 2013, Napa Valley RESTAURANTS ONLY
Winemaker Notes: "A complex blend of Cabernet Sauvignon, Malbec, Zinfandel and Petit Verdot. Aromas of blueberry, crème de cassis, blackberry and vanilla. Aged 15 months in 65% French oak barriques, this wine has a supple and creamy palate with flavors of blackcurrant, violet, raspberry and licorice. While meant to be enjoyed now, more time in the bottle will yield additional complexity."
Aged 15 months in 65% new French oak, after an ideal 2013 growing season allowed harvest of each block at peak maturity. 950 cases.
Estate Merlot 2013, Stag's Leap District, Napa Valley
Winemaker Notes: "Extremely limited, it exhibits complex aromas of dark chocolate, black cherry, fresh tea leaf and cardamom, complex flavors of plum jelly, candied dates and tamari finishing with notes of caramel and French roast coffee bean. Drink upon release but it will develop added complexity over the next decade."
Powerful, yet with refined tannins and complex flavors. Harvested as each block matured separately, fermented in upright, open-top new French oak barrels, and then aged 18 months in 100% new French oak. 325 cases.
Estate Cabernet Sauvignon 2014 Stag's Leap District, Napa Valley
Winemaker Notes: "Up front and approachable, it exhibits notes of blackcurrants, cassis, forest floor and chocolate. The palate is medium bodied with a lush, fleshy texture that is captivating. Made to offer early drinkability, it can be cellared for 12-15 years."
The 2014 drought year was a dream vintage with exceptional fruit quality, and early harvest. 75% Cabernet, 15% Merlot, 8% Franc and 2% Petite Verdot, aged in 85% new French oak, following initial fermentation in upright, open-top barrels and time in cement tanks. 1010 cases.
Estate Reserve Cabernet Sauvignon 2013, Stag's Leap District, Napa Valley
Winemaker Notes: "The 2013 Hartwell Estate Reserve Cabernet Sauvignon is very expressive and layered: blueberry jam, blackberry fruit, cassis, mocha, wild flowers, and tar. The wine is full bodied with great texture and purity."
Hartwell's flagship, most cherished wine offers signature Stag's Leap District elegance, and intense complexity that will evolve over time. It is made by selecting the very best blocks and barrels from the original sites planted with the famed Grace/Bosché Cabernet clone, and aged for 18 months in 100% new French oak. Blended of estate-grown 76% Cabernet Sauvignon, 8% Merlot, 12% Cabernet Franc, 4% Petit Verdot. 600 cases.